Defying the Odds
Submitted by Aimee Lisa DeBat (in print and posted online)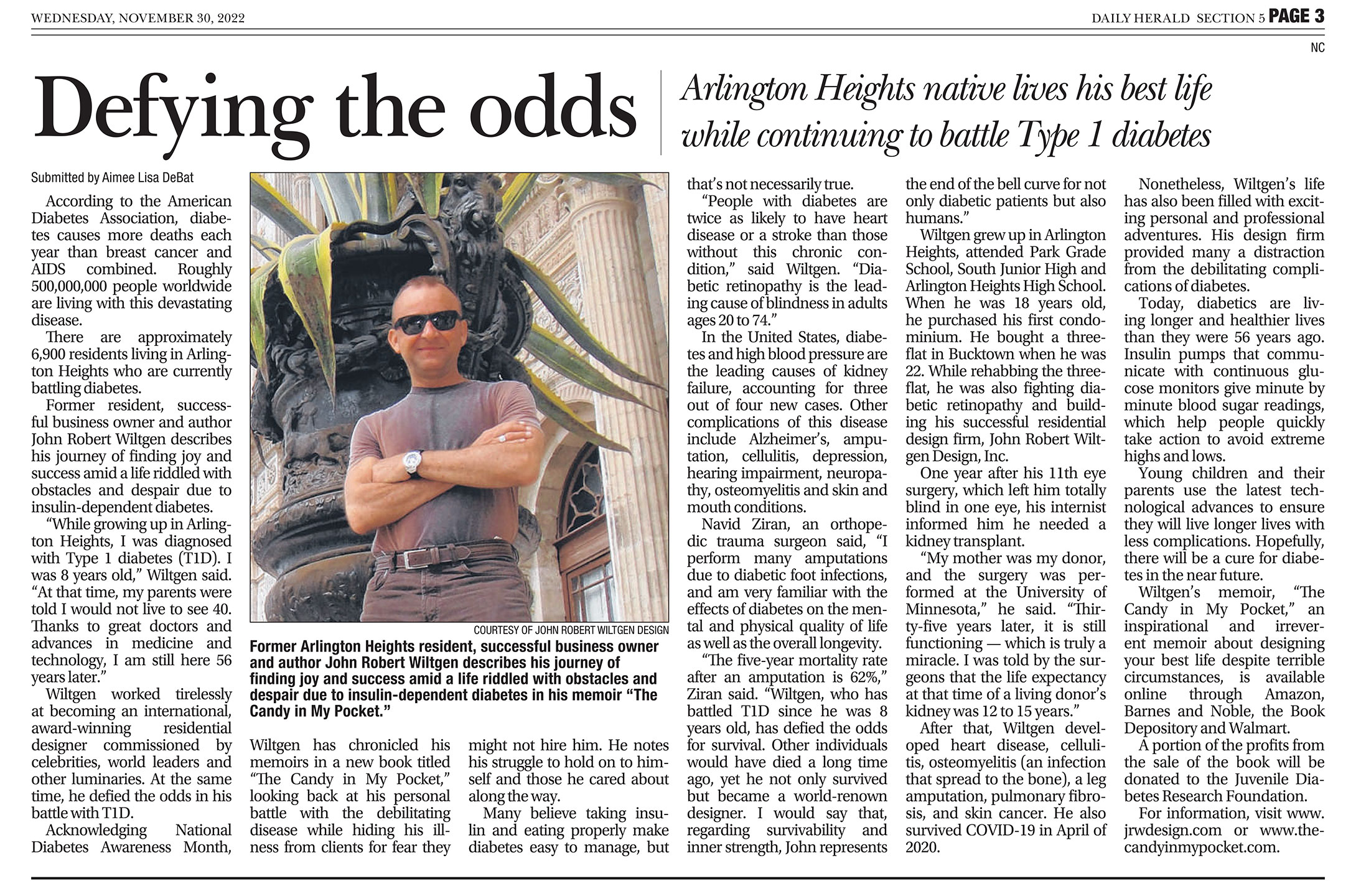 According to the American Diabetes Association (ADA) diabetes causes more deaths each year than breast cancer and AIDS combined. Roughly 500,000,000 people worldwide are living with this devastating disease.
There are approximately 6,900 residents living in Arlington Heights who are currently battling diabetes.
Former resident, successful business owner and author, John Robert Wiltgen describes his journey of finding joy and success amidst a life riddled with obstacles and despair due to insulin-dependent diabetes.
"While growing up in Arlington Heights, I was diagnosed with type 1 diabetes (T1D). I was 8 years old," tells Wiltgen. "At that time, my parents were told I would not live to see 40. Thanks to great doctors and advances in medicine and technology, I am still here 56 years later."
Wiltgen worked tirelessly at becoming an international, award-winning residential designer commissioned by celebrities, world leaders and other luminaries. At the same time, he defied the odds in his battle with T1D.
Acknowledging National Diabetes Awareness Month, Wiltgen has chronicled his memoirs in a new book looking back at his personal battle with the debilitating disease while hiding his illness from clients for fear they might not hire him. He notes his struggle to hold on to himself and those he cared about along the way.
Much of the public believe taking insulin and eating properly make diabetes easy to manage, but that's not necessarily true.
"People with diabetes are twice as likely to have heart disease or a stroke than those without this chronic condition," said Wiltgen. "Diabetic retinopathy is the leading cause of blindness in adults ages 20 to 74."
In the United States, diabetes and high blood pressure are the leading causes of kidney failure, accounting for three out of four new cases.
Other complications of this disease include Alzheimer's, amputation, cellulitis, depression, hearing impairment, neuropathy, osteomyelitis and skin and mouth conditions.
Navid Ziran, an orthopedic trauma surgeon said, "I perform many amputations due to diabetic foot infections and am very familiar with the effects of diabetes on the mental and physical quality of life as well as the overall longevity."
"The five-year mortality rate after an amputation is 62%," Ziran noted. "Wiltgen, who has battled T1D since he was 8 years old, has defied the odds for survival."
"Other individuals would have died a long time ago, yet he not only survived but became a world-renown designer," said Ziran.
"He is a quintessential example of how the human spirit can not only adapt but also flourish and succeed despite overwhelming obstacles. Truly, his life story embraces 'ad astra per aspera'- a crooked path leads to the stars," said Ziran.
"I would say that regarding survivability and inner strength, John represents the end of the bell curve for not only diabetic patients but also humans," he concluded.
Wiltgen grew up in Arlington Heights, attended Park Grade School, South Junior High, and Arlington Heights High School.
He likes to reminisce about those years and says it was a great place to grow up. He and his brother and sisters survived life without seat belts, cell phones or being chauffeured around by their parents.
"If we wanted to get somewhere we either walked or rode our bicycles," he said. "Until we bought our own cars, that is."
"When I was 13 and just starting high school, I worked at Eddie's Lounge where I washed dishes, bussed tables, stocked the beer fridge and breaded 300 pounds of fish every Thursday for Friday nights' fish fry," recalls Wiltgen.
A few years later he apprenticed at the Arlington Park Theatre working with Hollywood legends including Louis Jordan, Leslie Caron, Sid Caesar, Imogene Coca and many others. At 17 he became manager of the Glidden Paint Company's model store for the Midwest region.
John remains in contact with many of his classmates who still live in and around Arlington Heights.
When he was only 18 years old, he purchased his first condominium. He bought a three-flat in Bucktown when he was 22. It was a complete gut-rehab, and he had no idea what it was going to cost to fix it up.
"I would have never gone through with the purchase," he said. "Ignorance is bliss."
To make matters worse, he remembers the fixed-rate mortgage for the loan on the building was a record-high 18.4%. His Realtor told him it was just more money to write off on his taxes.
While rehabbing the three-flat, he was also fighting diabetic retinopathy and building, what turned out to be, his extremely successful residential design firm, John Robert Wiltgen Design, Inc.
At times diabetic retinopathy left him totally blind but with the help of an awesome business partner he continued to work without letting anyone know he couldn't see.
"After all, who wants to hire a blind designer?" asks Wiltgen.
One year after his 11th eye surgery, which left him totally blind in one eye, his internist informed him he needed a kidney transplant.
"My mother was my donor, and the surgery was performed at the University of Minnesota," he said. "Thirty-five years later, it is still functioning-which is truly a miracle. I was told by the surgeons that the life expectancy at that time of a living donor's kidney was 12 to 15 years."
After that Wiltgen developed heart disease, cellulitis, osteomyelitis (an infection that spread to the bone), a leg amputation, pulmonary fibrosis, and skin cancer. He also survived COVID-19 in April of 2020 when there was little information known about it.
Nonetheless, Wiltgen's life has also been filled with exciting personal and professional adventures. His design firm provided many a distraction from the debilitating complications of diabetes he battled.
John remembers the first time he ever went to a professional basketball game. His client, NBA hall of famer Jerry Krause, invited him.
"I was seated with the general manager of the Chicago Bulls and his wife, and I am cheering for anyone who scored a basket. I don't mean anyone from the Bulls – I mean anyone. I was so embarrassed."
Nonetheless, Wiltgen was a guest of the Krause's for years.
"They were extremely kind, and we became very good friends," said Wiltgen. "Thelma traveled around the world with us, and Jerry came to many parties I hosted."
Wiltgen was also commissioned by actor John Cusack, talk show host Steve Harvey, and several homes for a man currently running for President of Nigeria.
He has received 45 awards for his completed projects and has appeared on many television shows including HGTV, NBC, FOX, and WTTW, to name a few. His work has been editorialized in more than 200 local, national, and international newspapers and magazines.
"On a fluke, I met movie-star Jane Seymour in Hackensack, N.J.," reveals Wiltgen. "We hit it off and the next thing I knew, I was hosting a Christmas party showcasing Jane's artwork. More than 300 people attended. The price of admission was a child's toy which were all donated to the Chicago Ronald McDonald House."
Feeling like he could never do enough for his mother, who gave him a second chance at life, John took her to the Academy Awards. The night before the awards he hosted a table of celebrities at Spago, Wolfgang Puck's flagship restaurant. One of his guests included Timothy Hutton who arrived with a new girlfriend. Wiltgen noted the two of them were busy making-out through most of the evening.
"When they finally came up for air, my mother reached her hand across the table and said to the girlfriend, "I'm sorry dear, I didn't get your name. The rest of the table was silent as they eyed each other cautiously. The girlfriend gazed at each of the other eight guests and then with the biggest smile, shook my mother's hand and said, 'Hi. I'm Angie (Angelina Jolie)."
Wiltgen recently celebrated his four-year wedding anniversary. He has lived with the same man for many years, and now that it's legal, they decided to make it official.
Because Wiltgen's firm included assisting their clients to develop museum-worthy art collections, the wedding was held in the Palm Springs Museum of Art. John's Mom gave him away.
"It was the happiest day of my life, and I am 63," confesses Wiltgen.
Today, diabetics are living longer and healthier lives than they were 56 years ago. Insulin pumps that communicate with continuous glucose monitors give minute by minute blood sugar readings which help people quickly take action to avoid extreme highs and lows. Young children and their parents use the latest technological advances to ensure they will live longer lives with less complications. Hopefully, there will be a cure for diabetes in the near future.
Wiltgen has written his memoir entitled, "The Candy in My Pocket." The book is an inspirational and irreverent memoir about designing your best life despite terrible circumstances.
"The Candy in My Pocket" is available online through Amazon, Barnes and Noble, the Book Depository and even Walmart. A portion of the profits realized from the sale of the book will be donated to the Juvenile Diabetes Research Foundation.
For more information, please go to the following websites:
www.thecandyinmypocket.com/the-candy-in-my-pocket-memoir-by-john-robert-wiltgen/
www.youtube.com/results?search_query=john+robert+wiltgen+design+inc